RE: How to get the firmware with function of I2S and I2C?
thanks for your reply.
when I executed the i2cdetect command with b187 version, it output the below picture.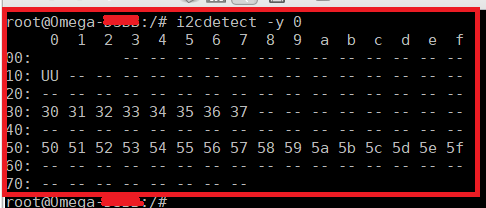 but, the omega with b201 version was running correctly(address 0x08 was printed).
so I have 3 questions.
first, why did it print the above picture?
omega2 is wrong? or only I2C function is wrong?
2nd, where can I get the firmware b187 or b194?
onion's repo site don't have a old firmware.
I have a one omega2 with the firmware b187.
so I can't test the other omega2 with the same firmware.
3rd, anyone have did to record with I2S(using the arecord command)?
posted in Omega Talk