RE: FB_ILI9341 80fps up to 100fps | memcpy(); 387 fps minimal
@brolly759 Sorry for the late reply, i saw the post now.
Actually there are but that is not a finished code(even beta).
My work partner and I parted ways, and the project was canceled so i don't code it further.
In the code there are lots of comment lines with Turkish language, when i create a free time i can change the comment lines and push the "unfinished code" to github. If it'll work for someone i will be glad.
Some of the functions.
/* Color conversion */
	typedef struct
	hex2rgb
	{
		unsigned int
			hexValue;
		unsigned short int
			r, g, b;
	} hex2rgb;

	hex2rgb
		parseRgb888( hex2rgb  hexValue );

	hex2rgb
		parseRgb565( hex2rgb  hexValue );

	hex2rgb
		color565( char *hexVal );
	
	hex2rgb
		color888( char *hexVal );

---

/* Color conversion */
hex2rgb
	parseRgb565 ( hex2rgb hexParse )
	{
		hex2rgb hexParsed888, parsed;
		hexParsed888 = parseRgb888( hexParse );
		parsed.hexValue = ( ( hexParsed888.r >> 3 ) << 11 ) | ( ( hexParsed888.g >> 2 ) << 5 ) | ( hexParsed888.b >> 3 );
		parsed.r = ( ( parsed.hexValue >> 11 ) & 0x1F );
		parsed.g = ( ( parsed.hexValue >> 5 ) & 0x3F );
		parsed.b = ( parsed.hexValue & 0x1F );
		//printf( "Output\nHex 565: #%04X\n", parsed.hexValue );
	return parsed;
	}

---

hex2rgb
	parseRgb888( hex2rgb hexParse )
	{
		hex2rgb parsed;
		parsed.r = ( ( hexParse.hexValue >> 16 ) & 0xff );
		parsed.g = ( ( hexParse.hexValue >> 8 ) & 0xff );
		parsed.b = ( ( hexParse.hexValue >> 0 ) & 0xff );
		//printf( "Output\nHex 888: #%06X\n", hexParse.hexValue );
		//printf( "RGB (%d, %d, %d)\n", parsed.r, parsed.g, parsed.b );
	return parsed;
	}

---

hex2rgb
	color565( char *hexVal )
	{
		hex2rgb hex24, hexParsed565;
		sscanf( hexVal , "%06x", &hex24.hexValue );
		//~ hexParsed888 = parseRgb888( hex24 );
		hexParsed565 = parseRgb565( hex24 );
		//~ printf ( "Hex24\t#%06X\nRGB888 (%d, %d, %d)\n\n", hex24.hexValue ,hexParsed888.r, hexParsed888.g, hexParsed888.b );
		//~ printf ( "Hex16\t#%04X\nRGB565 (%d, %d, %d)\n", hexParsed565.hexValue, hexParsed565.r, hexParsed565.g, hexParsed565.b );
		return hexParsed565;
	}

---

hex2rgb 
	color888( char *hexVal )
	{
		hex2rgb hex24, hexParsed888;
		sscanf( hexVal , "%06x", &hex24.hexValue );
		hexParsed888 = parseRgb888( hex24 );
		//~ hexParsed565 = parseRgb565( hex24 );
		//~ printf ( "Hex24\t#%06X\nRGB888 (%d, %d, %d)\n\n", hex24.hexValue ,hexParsed888.r, hexParsed888.g, hexParsed888.b );
		//~ printf ( "Hex16\t#%04X\nRGB565 (%d, %d, %d)\n", hexParsed565.hexValue, hexParsed565.r, hexParsed565.g, hexParsed565.b );
		return hexParsed888;
	}

---
void
	drawEmbedBmp ( struct fb_info *fb_info,
				   char *bmpFile, unsigned int bmpFile_len )
	{
		memcpy( fb_info->ptr, &bmpFile[0], bmpFile_len );
	}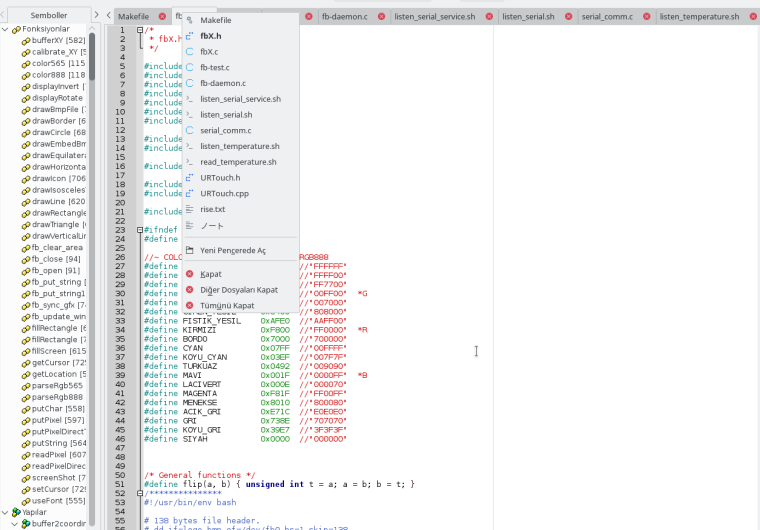 posted in Omega Talk