RE: Omega2 u.fl external antenna usage
WereCatf - I'd guess by now you tried some aluminum foil under the Omega2 chip antenna, in place of your finger. Your post and this thread stirred me to experiment with the U.FL connector, add an external 2.4Ghz antenna then measure the signal strength with the Android phone app, Wifi Analyzer.
I disagree with some options and information expressed here and in the Onion resources. In my experience the onboard antenna doesn't work in unison with an external antenna, if fact they are designed to stand alone or be disconnected before you connect the external antenna, as done in these router antenna hacks TP-Link MR3020 and TP-Link WR703N. I've used these and they work.
Today I found that -
yes, the RF feed for the U.FL socket is wired in parallel with the onboard chip antenna
the onboard chip antenna is connected to the RF output by a tiny 0 ohm resistor/ jumper
You can 'disconnect' the chip antenna by desoldering the 0 ohm resistor (I used an iron at 550 degrees F for ~20 seconds). For my eyes a magnifying lens was a must, and my soldering iron has a very fine point. There isn't much room on the board around this part ... A fine pointed knife could be used to cut this part off, refer to my photo. Done carefully, The change will be non-destructive and reversible with a small blob of solder.
-Note that you will ALWAYS want to have either the external or chip antenna connected whenever the unit is powered, otherwise you risk damaging the RF circuit of the unit!
-For the external antenna testing I used a very directional 2.4Ghz PCB Yagi antenna with a maximum 11dBi gain. No testing outside yet - it rained all day. I measured the Omega2's Wifi signal indoors through two (wooden) floors, past a fluorescent fixture, etc. Compared to the stock Omega, there was no signal change with both antennas connected. After the chip antenna was removed from the RF circuit, the external antenna on the Omega2 boosted the signal by 10 to 15 dBm. I'll follow-up after I have tested some other antennas.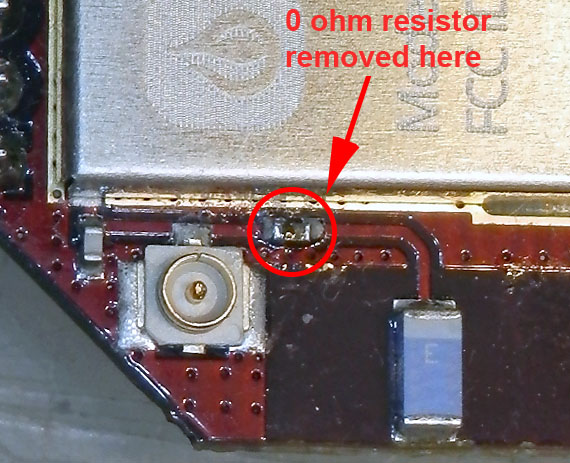 posted in Omega Talk